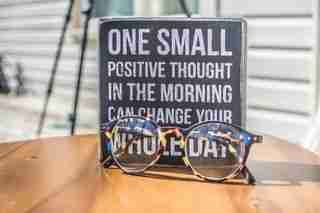 The Positivity Series
Life is About Perspective
We can choose to view the world through a negative lens of fear and limitation. Or we can embrace the small daily joys and realize that this is what a life of meaning is all about.
Acknowledging all we have to be grateful for opens doors of opportunity for us. We can have tunnel vision and look at the world from a fearful and limited perspective. Or we can appreciate the tiny pleasures in life and find meaning in life.
Why Be More Positive?
Positivity is contagious. Putting a good vibe out there can help you attract more of that good vibe, if we really want this for ourselves, our families, and the people we come into connection with.
Why would anyone seek to become more positive? Why does your perspective matter? It matters because every thought you have becomes an action (or inaction) that sets off (or blocks off) a chain of future events.
What you say to yourself matters because your thoughts direct your actions. If you tell yourself every day, I'm not smart and people don't value what I have to say… then you'll be sending that out as a silent message that others pick up and form opinions of you on.

How you feel about yourself comes across in everything you say and do – words, body language, actions. If you walk into a room with slumped shoulders and a frown on your face, maybe a small child will look up at you and catch that silent message you're sending about yourself. The child is primed for imitation – what kind of expression is he or she likely to adopt based on what's coming from you?
Or maybe someone who holds the key to something of value that could be yours – a job, an opportunity, a new relationship – might see that sagging posture, or defeated expression — and think "well, this person isn't up for what we have happening here."
How you carry yourself, the look in your eyes, the spring in your step, and the words that come out of your mouth ALL form an impression of you that others take in and judge or may be influenced by.

What you say to others matters because your words influence how they see themselves. Toxic people correct, demean, blame and criticize constantly. We have all been at the receiving end of this type of negativity and its effects can demoralize and devastate over the long term.
The actions you put out there set things in motion. Eventually, what you put out there comes back around full circle.
Why Would You Want to Be a Positive Person?
Wondering why you'd want to be a positive person, and not just smile more, but make a real effort to look on the bright side, find the silver lining and not dwell in negative self-talk?
Karma is a mirror. What you shell out into this world is what comes back to you through experience. When you decide to be proactive and think positively, people pick up on it. They react to your positive approach by being more honest, generous, and open with you. Your warm and welcoming presence will have them seeking you out for deeper and more meaningful engagement. That can only mean very good things for your relationships.
Positive people Are Up for the Challenge
Ever noticed how in TV shows and movies, the main character, or hero of the story tends to achieve their goal no matter the circumstance? There's something to that.
Artist Pitbull mentioned during an interview, "The harder I work, the luckier I get". This really speaks to how determination and mindset lead to bigger and bigger success.
Positive people attract other positive people. You will literally magnetize optimists into your orbit with your warm and welcoming presence. Like an effervescent soap bubble that melds naturally with other soap bubbles, that's how positivity can impact your life so you can form your circle of positive connections – other people who choose to see the good in the world, focus, and expand on that.
Think about it, who do you want to be around… that high-maintenance complainer? Or the person with a bright smile and cheerful words who makes you feel good, respects your ideas, helps you accomplish what you'd like to achieve, and stands by you in life?
Positive people believe they can, so they do. It really is all about perspective. Say you're planning to go on vacation. You book the hotel, pack up your gear, and get the kids ready. But as soon as you get in vacation mode and jump in the car, everything seems to go wrong.
Your kids argue for the whole trip down. You discover that you forgot to pack a bathing suit. And to put the icing on the cake, when you arrive, the hotel has no record of your reservation, and they claim to have no vacancy.
Despite these setbacks, your husband and you are determined to make this a great vacation. So, you press the pause button for a few minutes to regroup. Give the kids a pep talk, and remind them that there is still so much potential to have a good time with all of these free days ahead of you to explore a new area. Everyone gets an attitude adjustment, one by one the problems are resolved, and you go on to have a fantastic family getaway.
Positive people are natural leaders.
If you think about it, who do you want to follow? That naysaying, negative person who makes you feel like you can't do anything right? Or the positive individual who highlights your best qualities and believes in you? Everyone gravitates to a natural-born positive leader. So, if you have that quality of living in you then the best thing you can do for yourself, and your own success and happiness is to refine the positive qualities that come naturally.
Next: Positivity Pays Off