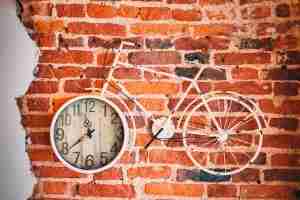 Everyone wants to be more efficient and effective. Why? So that you get more out of life.
We want our time to be our own. We want to push aside distractions so that we can take the wheel of our lives and feel in control.
And of course, we want the perks and rewards that come with being quick and good at doing what we do.
Let's face it. Not every task is interesting or feels worth our time. There are at least ten other things we'd prefer to be doing instead of whatever we are doing.
Highly effective people aren't born that way. Like all skills, effectiveness is something we learn and develop. are ready to grow and improve start by instilling a few of these basic habits in how you work and live:
Get organized in every aspect of your life.
Set and achieve goals.
Embrace routines until they become habits.
Become a master at communication.
I know that is simpler said than done. So let's break down how to develop in these areas. And help you become the highly effective person you always dreamed of. 
As an Amazon Associate I earn from qualifying purchases.
Step One: Eliminate multitasking.
Have you managed to dupe yourself into thinking that you're good at multi-tasking? It's been proven that very few people can focus solidly on more than one or two tasks at a time. This is especially true if the task requires deep, concentrated focus.
When we multitask, we're inclined to falsely believe that we're getting more done than we would have otherwise. But as quantity increases, quality decreases. Highly effective people know that zoning in on a single task with as few distractions as possible helps them produce faster and better.
Step Two: Delegate the work.
Highly efficient people know what they're good at, and what they're not good at. They break down tasks and delegate them to others who can do the job better. They activate and empower a support team. When you outsource the things that you aren't good at or hate doing, you are freed up to accomplish the tasks you like doing and excel at in record time without distraction.
Let's walk through an example. You love a clean, organized, well-stocked home with everything in its place. You imagine how it feels when friends drop by for coffee. When they come, they have a clean place to sit and enjoy a hot drink and a treat.
How do you make this happen when your life is packed with working 40+ hours a week and all your other commitments?
1. Delegate all or part of the cleaning
I find that I don't mind doing the "dry" part of cleaning, sweeping, vacuuming, putting things away. But when it comes to the "wet" work; mopping and scrubbing, I like to bring in the experts. Once or twice a year, I splurge for a cleaning service. You can specify just the bathrooms and kitchen to save a bit compared to a whole house cleaning.
The mother of a friend of mine has her entire house cleaned once a month by professionals. She has never looked back. Now that her husband is in the beginning stages of dementia, she swears it is a sanity saver.
2. Use a personal organizer or DIY organization
As a personal organizer, I may be a bit biased. Setting up systems is just as important as finding a place for everything in organizing. These systems are how you will easily and with little effort maintain your neat, tidy, and well-stocked home. You will know when things are depleted or worn out and need to be replaced.
You can schedule just a session or two with a professional organizer like me or research the many systems online (e.g. Fly Lady) to take a do-it-yourself approach.
3. Use online shopping
I don't think I am breaking new ground here to point out that online shopping saves time. Order those coffee beans and the ingredients for your sweet treat to come right to your doorstep or pick it up curbside. One of my favorites is Amazon Prime's 2-Hour Grocery delivery. I was out of cream once the day before Thanksgiving. It was a lifesaver.
Now you're ready anytime friends want to drop by. Your reward is having the time to enjoy chatting, sipping, and munching with friends, stress-free in the tidy, pleasant surroundings of your home.
Step Three: Communicate clearly.
Inefficient people are often poor communicators. Sending a quick email with a vague message or confusing information tacks on needless hours to projects and wastes everyone's time.
Highly effective people think through their communication and craft the message with care. Each objective is considered.
They use the exact wording necessary to get the desired result in the shortest amount of time.
Let's look at that this through the lens of working. When it comes to working, we know that a lot of what we do is necessary.
We need to keep money coming in to support ourselves and our families. Do we like our work? Maybe it's "just okay." But it is necessary. We need money to buy the things that help us live comfortably.  Our time is not entirely our own when we're working at our job.
In an interview by Timothy Ferriss, he talked about selecting the title of his New York Times best-selling book, The 4-Hour Work Week.  Out of all the options that title most resonated with readers because instinctively we feel that about 90% of our work is wasted effort. Only 10%, 4 hours of a 40-hour work week is what makes the difference.
The more efficient we become at our communication, the more likely we are to climb that ladder that brings the dollars that bring security. That's the reward. Stripping away the unnecessary and speaking with clarity drives us to make steady improvements and leaps forward in our careers.
Step Four: Build a structured schedule.
People who score high in personal effectiveness create routines. With the plan laid out in front of them, they can prepare for important events and take control of their calendar.
Efficient people have mastered the art of managing every manageable moment. In other words, they give themselves back the gift of their own time. And they do it repeatedly, in every aspect of their lives.
In a fast-paced world, it's easy to get caught up in the rat race and forget that life is short.
Effectiveness is about accomplishing what you need to do so that you can get back time for what you really desire. Perhaps that is more snuggling with your fur baby, human baby, or significant other. Or maybe it is giving back to an underserved community you deeply care about.
Step Five: Set time limits.
Effective people set time limits on each task to take their time seriously. It's not enough to build a schedule, you also must keep to the schedule.
How you choose to block out your time for a specific task will depend on the task and how you prioritize. If the task requires setup or travel time, you will want to block out more time.
Don't forget to factor in time for breaking down the setup and giving yourself a break too!
If you frequently have less important tasks that constantly change time slots, consider blocking some of your downtime to commit to overflow tasks.
Step Six: Get organized.
Organization is key to personal effectiveness. What happens when we can't find what we need? We waste time searching.
From the clothing you don each day before heading out the door, to the car keys that get you where you need to go, to the cabinets where food and utensils are kept… the better we are at establishing and maintaining "a place for everything and everything in its place," the more effective we'll become. Just don t allow perfectionism to drive you crazy.
Step Seven: Schedule downtime.
When you're tired or overworked, it gets harder to function. Ever have a late night, and then have trouble expressing yourself at the next morning's office meeting?
What about pulling an all-nighter to pass a test, but then forgetting everything you learned?
Effective people give themselves the rest and renewal they need to perform at their best.
Self-care is important for maintaining your mental health and well-being. Schedule some time each week to do something that makes you happy, whether it's reading, taking a yoga class, or going for a walk in nature.
Step Eight: Make plans.
To be more effective, establish a clear set of plans for projects, goals, and tasks. Take the time to research and break a project down into the basic steps needed to achieve your desired outcome. Highly effective people aren't born. They are made. 
With a little time and effort, you can become one of the highly effective. Follow these steps and you will be amazed at how much more time you have to get more out of life.
Previous: What Magical Things Occur When We Become More Effective? | Next: How to Become a Taskmaster Extraordinaire