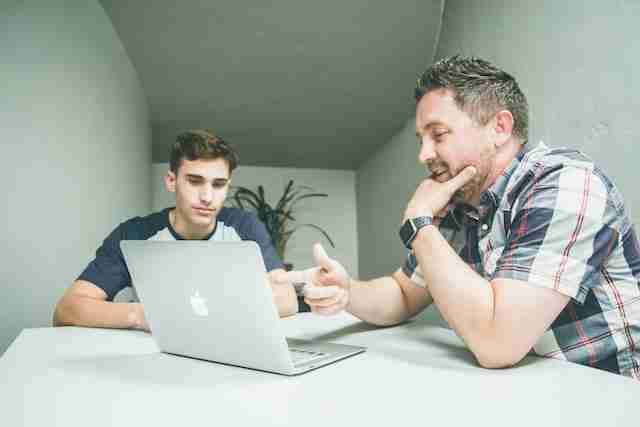 Mentors pave the way for how we hope to live. A mentor is a role model, a guide, a teacher, and more. When looking for a mentor, you are seeking someone to emulate. Someone to take your cues from because they have it together.
If you think about it, there's probably someone, ahead of you in the game of life, whom you look up to and would be happy to follow their lead.
Doing what they do or did to get where they are, will help you make strides forward in leaps and bounds.
A mentor is more than just a symbol. True mentors work with us to develop important skills. They fortify us with emotional support, help us advance, and provide valuable, real-life lessons to help us learn and to grow. You may just find your perfect mentor in a place you never thought to look.
10 Places to Find a Mentor?
In your family
Among your friends
At church
At the gym
In your social group
At your school
In a special interest group
At a networking event
On the internet
On a social media platform
How to Get A Mentor
Asking someone to mentor you can be a daunting task. But it is important to remember that everyone was mentored at some point in their career. There are many ways to ask someone to be your mentor. Here are some tips on how to ask someone to mentor you.
Make a connection
You can't approach finding a mentor like a cold sales call. I'm sure Warren Buffet or Oprah get plenty of requests asking for their advice or just a few minutes of their time from random people they don't know or barely met.
Connecting even in a small way with the person you want to be your mentor is a first step that you can't skip. If you can't find a way to make a connection, you might want to rethink if this person is the right mentor for you.
Many years ago as a student, I worked in my University's career center. For reasons I can't recall, this office was the middle man for sending students' recommendation letters from professors on to the medical schools. I am sure this has been automated by technology now. But in the early 90s, we received sealed letters directly from the professors, opened them, made a copy, and sent them onward to the medical schools for review with the student's applications. And the only way a student could know if their recommendation letter had come in was to stop by the career center and check in with us.
There were certain prestigious professors that certain students would come by again and again to check on. Anxiously awaiting and fretting that the recommendation letter was received in time. One particularly determined student learned that interoffice mail was delivered twice a day. They stopped by twice when the mail arrived to see if the recommendation letter had arrived. You see they couldn't hassle the professor about it. Because that might adversely affect the recommendation. But they had no problem hassling us poor hourly student workers on its whereabouts.
One day the letter finally came in. Do you know that it was barely more than a sentence? All it said was "Mr. XX did well in my class and received an A-". Even though the student did well in the class, he had failed to make any impression on or connection with the professor. As a result, this very important letter of recommendation shared no more information than what was already in the transcript.
The moral of the story here is to invest your time in getting to know someone if you want them to invest in you in return.
Ways to make a connection
Whether you physically or virtually interact with your potential mentor, reach out using one of the following to make an initial connection:
Compliment them on something they do well. And be specific on why you were impressed and what it taught you.
Take an interest in one of their hobbies, charities, or work projects.
Do something exceptional that they will notice.
Become acquainted with someone in their social or civic circle that can introduce you.
The goal here is to find a way for you to interact and start a dialogue with this person on any topic other than asking them to be your mentor. You want to warm the person up and have a bit of rapport first.
Most importantly, you want to come out of this interaction with a way to contact the person again. If you met the person on social media, you can skip this step. I find one of the smoothest ways to ask for that is to say:
It was nice meeting you. I really enjoyed talking to you. Could I get your e-mail, Twitter, or Instagram to send you my contact information?
If they say no, you haven't invested any more time than a single conversation. If they say yes, you are ready to move to the next phase.
Grow the connection
Now that you have interacted with your potential mentor once, you want to nurture and grow the connection. This is a two-way street for you to also confirm that this is a person you want to model some aspect of your life after. In this step, you are going to make the most of your next follow-up contact.
First, you send your contact information to the potential mentor as you said you would. This is you showing your follow-through. Depending on the content of your first interaction, you can send what you think is an interesting bit of information or make an insightful comment.
Give them some time to respond. If they do respond, you are well on your way. If they don't respond, give it a couple of weeks. They could be on vacation or incredibly busy. Remember you are not a bill collector.
Ask them to be your mentor
First, make sure that you can clearly explain what mentorship means to you. It is important to begin the conversation with a warm-up question. For example, you can ask what they like about the area you are looking for mentorship in. If it is career mentorship, ask them about their job, or how they got started in their field.
Then can ask if they would be willing to give you advice, or if they would be willing to talk with you one-on-one from time to time. Now is the time you say that you believe they would be a good mentor for you.
If they say no to your mentorship request, ask if they have any recommendations for someone else that you could contact. You can also ask if there is anyone in their network who might be a good fit, because the best mentors are usually connected to other people in their field. Plus that gives you the benefit of having tried all options and possibly uncovering someone you never would have thought of.
How do I know I am ready for a mentor?
You are ready for a mentor when you want to go deep and personal. You are ready for a mentor when you're ready to hit a milestone and blaze a new trail for yourself. Seek out a mentor who is exactly where you want to be, whether it's a few paces ahead or at the finish line.