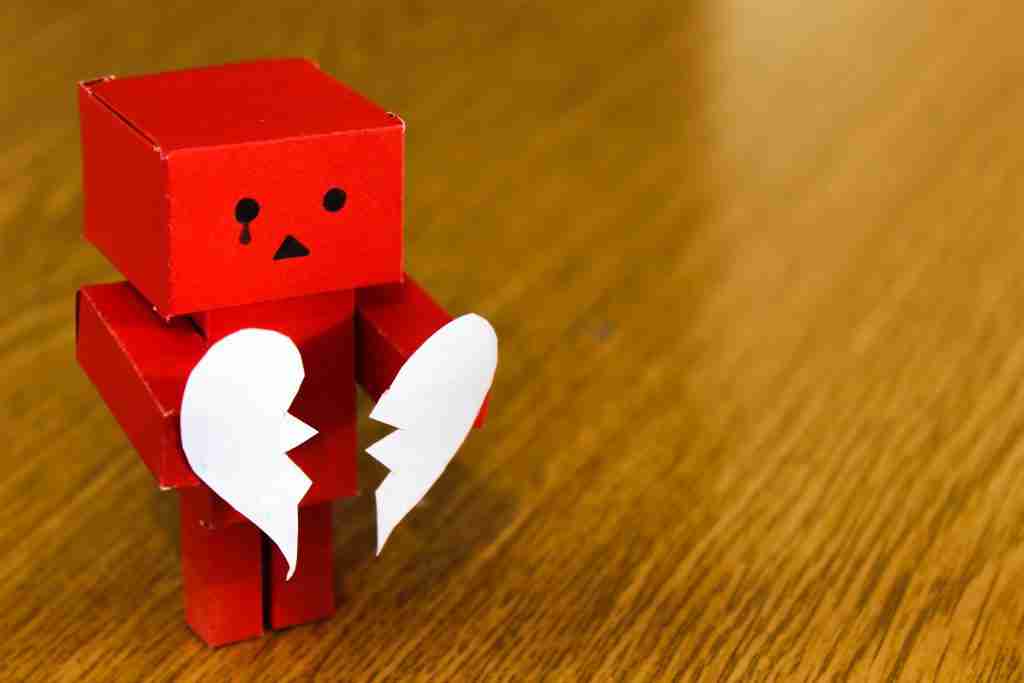 You're ready to end the relationship
So you're finally coming to terms with the fact that your close personal relationship with a difficult person is killing you slowly and you are ready for a breakup plan. And there may be some validity to that hyperbole. Chronic stress harms our health over time. When you're constantly having to deal with someone who keeps your nervous system in a heightened state of anxiety, or "fight or flight," it means that your stress hormone levels are nearly always elevated and likely producing all kinds of symptoms. This can include poor quality sleep, digestive issues, and a coping tendency that has you turning toward addictive substances.
Why you need a breakup plan
Breakups can be difficult to execute. They are often messy, even more so if the relationship is with a difficult person. Having a go-to breakup plan on hand with foolproof steps to end a relationship as cleanly as possible is the best way to break up with another person. The goal here is to consciously uncouple rather than unceremoniously dump the other person.
It can be tough to break up with someone you care about when they're desperate to keep you, but there are ways to do it gently and in a way that will hopefully leave them feeling better in the long run. If you're ready to free yourself once and for all from the negative influence of a difficult person, then make note of these steps to include in your exit strategy.
Steps to Breakup
Say what you need to say
Be honest and direct about why you are ending the relationship.
Be positive and optimistic about their future.
Don't act like you're better than them.
Let them talk and ask questions.
Don't take it personally if your partner doesn't want to talk to you.
Follow through with your decision and don't waver.
Give them time to get over you and move on.
Do this soon.
Things to say during the breakup
Every person has their own quirks and qualities that contributed to the incompatibility and your desire to break up. Remember we all have annoyed someone in our lives.
So try not to make your points all about how they are terrible and you are perfect. Unless they did something heinous (lie, cheat, steal, injure, etc.) then feel free to unceremoniously dump them without a breakup plan and let them know exactly what unforgivable thing they did to cause it.
While difficult people are hard to deal with, they deserve kindness and consideration when ending things if they have not done something unspeakable to you. The most frustrating aspect is the difficult person's continual state of negativity and thinking they know best. Finding ways to say goodbye to the negativity of your difficult person in a positive way can seem like an impossible task. But with these tips, you can end a negative relationship in the most positive or at least neutral, non-catastrophic way.
Try thinking about the things that you liked about the person to avoid starting from a negative outlook. Then think about how things changed over time to the point you were no longer enjoying the relationship. So when you explain why things are ending, you can talk about the good times (e.g. how you used to laugh and talk for hours) and how markedly different the current state of your relationship is (e.g. fights or uncomfortable silence).
If you have grievances to air, talk about the issues in the context of how they changed the relationship dynamic. For example, if their lying broke your trust. And without trust, you put a wall up that is cemented in place to where you can't bring yourself to let them in again.
The only thing you can do is to let them know how you feel about the situation and what you need. Avoid the urge to end on a positive note with sentiments like "I will always love you" or "Maybe down the road…" That unfairly leaves the other person with misplaced hope that things may change. Even if they do, it is best to leave things cleanly broken off with the feeling that this is finished business.
The Breakup aftermath
In addition to having a plan in place, be prepared for feelings of loss and sadness even for a preplanned breakup. After all, it is the end of something that probably had some good or even great moments. Even though the person is difficult, you should do what you can to give everyone closure and make it easier for you to walk away.
Recognize that while you will be free of the difficult person, you are losing someone from your life. A month from now, you don't want to find yourself sitting on the couch with the person you ejected from your life both crying because you couldn't take the loneliness or live with the hole in your life from them being gone. Make sure you're okay with the decision and that you're doing the right thing.
Get support
Seek support from friends who care. Difficult people don't often supply the emotional comfort that we need to feel good and secure. This is why we find ourselves stuck in a perpetual cycle of negativity with them. To avoid this, make it a point to seek out and spend time with positive people who lift you up and will listen and empathize with your feelings, thoughts, and dreams.
Detach emotionally
When it comes to getting out of a bad relationship, the most important thing is to protect yourself. A healthy way to do this is with emotional detachment, where you detach yourself from all emotional aspects of the relationship. For example, when you walk into your house, mentally separate your home life from your work life or social life by creating barriers that divide or compartmentalize each. In other words, instead of focusing on your partner's flaws, see an area that you would like to change. For example, say to yourself, "I would like to have friendships that are supportive and we constantly build each other up."
To speed up the process, just stop sharing the important facts of your life with them. You don't feel good any time you share with them, so just stop it. Save your stories, funny thoughts, and personal episodes for someone who values you and will appreciate what you say.
Distance Physically
If it is a romantic relationship, you also need to physically distance yourself. Physically distance yourself from the difficult person. This means that if you are sexually involved, stop doing this or taper things off until you are no longer intimate with each other. Avoid sleeping in the same bed, being in the same car together, or sharing space in your home if you live with each other. This will be difficult at first and likely lead to some arguments. However, if you cut the person off little by little they may not realize what has happened until there is no going back.
Tips for marriage breakups
Search out other options. If this is a marriage partner, you will have to begin the process of finding out all you need to know about the process of getting a divorce. Talk to attorneys and speak to friends who have already gone through it. Try to be realistic about what will happen and try to get comfortable with the steps you'll take.
Tips for work breakups
If this is a job where you can no longer tolerate working with certain people, get your resources together. Gather all evidence of your accomplishments at work. Put together a resume and get recommendations from people you trust who will vouch for you. Start the job search. Make a plan to get out, and follow through. Or, if the person appears to be a negative influence on the entire department and is causing employee morale to plummet, you can do something proactive and make plans to file a formal complaint against them.
Tips if you live together
Know where you will live after you move out. And if you two are dating, have options to fill your free time with activities, people, and hobbies that will help you thrive as a person.
Conclusion
Relationships are hard. The most difficult relationships are those that are characterized by constant arguing, disagreements, and frustrations. When one person starts feeling the brunt of the other person's idiosyncrasies, you develop skills to help you cope with that person's behavior. But ultimately they may decide that it is time to find an exit strategy to end their relationship with the challenging person.
The ending of a relationship is something only the two people involved can control. It is unfortunate that breakups are not always viewed as amicable experiences. The ending may be heartbreaking for one person and was inevitable for the other. It's important to remember how difficult it can be to end things with someone you used to love.
Letting go of a relationship is never easy. In some way, you may be addicted to the bizarre dynamic that plays out between you and your difficult person. However, know that you deserve happiness just as much as the next person. No one should make you feel bad about who you are, guilty for your natural human imperfections (NO ONE is perfect!), or as though you are stupid, incapable, or unimportant.
If someone with whom you're relating is making you feel worse for being with them, then this is not a relationship worth salvaging. It's scary to think about being alone at first, sure. But on the other hand… if you had your time back to do as you pleased… imagine all of the wonderful possibilities that you could create in your own life.
Start: How to Deal with Difficult People | Previous: How To Stop Arguing With A Difficult Person