I had to make a point of taking care of myself to be in the right headspace to make the best decisions.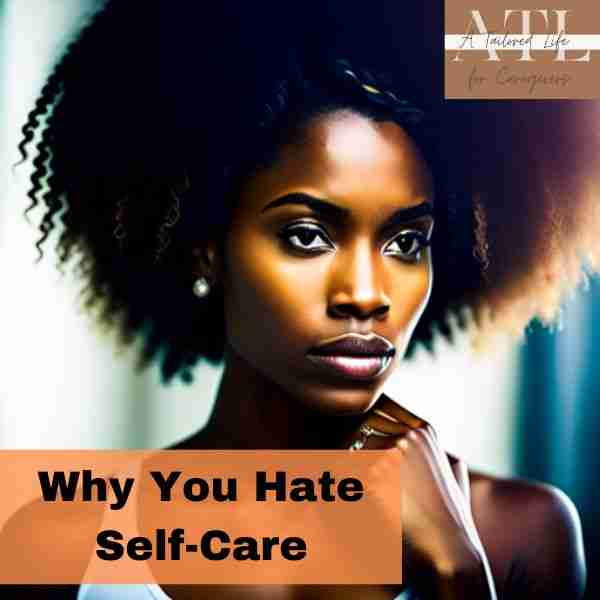 Why You Are Uncomfortable With Self-Care
For some people, the thought of self-care is uncomfortable. The suggestion of a bubble bath makes you cringe thinking of the work to clean the tub before and after. Journaling is out because you don't like to write or would be mortified if someone found and read it. You find exercise to be more of a chore than a release.
I used to mistakenly think that any time, energy, or funds I had were always best spent on my family and taking care of things for others.
I had to realize that rather than feeling guilty, I should have been making a point of taking care of myself to be in the right head space to make good decisions and in the right physical shape to do my best work.
These statistics on the percentage of caregivers whose life is affected by caregiving show just how big the impact is on your well-being.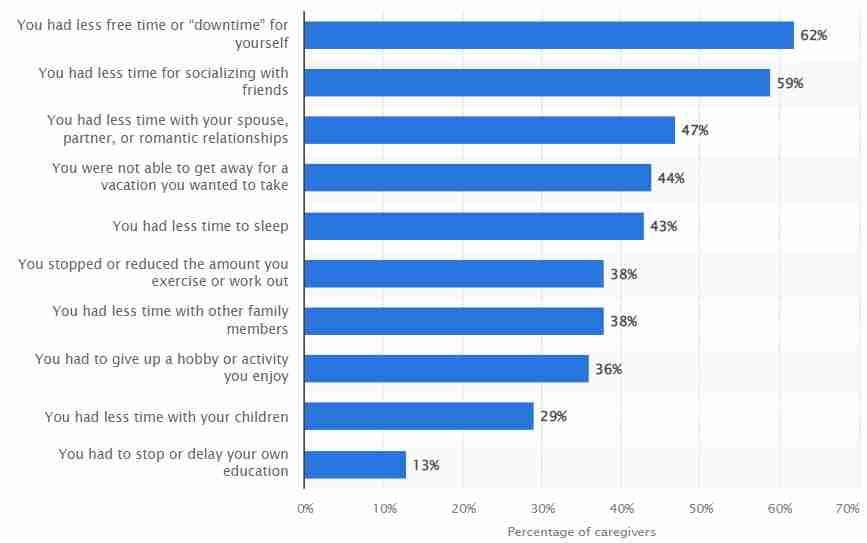 Self-care Activities for People Who Hate Self-Care
Here are ten self-care activities that don't feel like self-care for those of us that hate to do anything for ourselves:
Spend time in nature: Take 15 – 30 minutes to do something outdoors. You can sit on your porch, take a walk down the block, or drive down a tree-lined route. It helps reduce stress and your boost mood.
Take a nap: A short 20-30 minute nap improves your alertness and productivity. Studies have shown that napping improves memory recall and learning. It's good for your overall health by helping to reduce blood pressure and the risk of accidents due to drowsiness or fatigue.
Eat something delicious and healthy: Eat or drink that thing you love that just so happens to be healthy. Not everything tasty is bad for you. I love the Greek dessert, yiaourti me melia. It's a bowl of creamy Greek yogurt with a drizzle of honey, a pinch of cinnamon, and topped with walnuts. This Greek dessert is rich in vitamins, healthy omega-3 fats, lactobacteria, and protein. Just as importantly it's delicious, feels indulgent, and reminds me of my favorite vacation to the Greek islands.
Take your medication and vitamins: Taking your supplements and meds is the surefire way to feel the best you can. It is shocking how often we don't prioritize or make time to give our bodies the minimum things it needs. We would never let our significant others, kids, or aging parents skip their meds. But I must admit that I have allowed myself to suffer in silence when I forgot to take or ran out of my migraine medication, my allergy medication at the height of spring, and even pain medication when I was healing from surgery.
Socialize: Make that phone call, send that text, video chat, or spend time with the friends, family, or social organizations you enjoy. If you see a local festival or fair this weekend, head on over. Attending social events reduces feelings of loneliness or isolation.
Take a break: Whether it's letting yourself daydream, drinking a cup of tea, scrolling through social media, or listening to music, taking breaks throughout the day improves focus and productivity.
Hobbies or creative outlets: A hobby or creative activity, like drawing, playing music, or learning the latest Tik Tok dance can provide a sense of accomplishment and reduce stress.
Read or watch something you enjoy: Taking time to read a book, listen to a podcast, or watch a movie or TV show provides a temporary escape from stress and anxiety.
Just breathe: You probably don't even notice how often you are in a state of stress, holding your breath from one moment to the next. Take a few minutes to control your breath with a deep breathing exercise like the 4-7-8 breathing routine to reduce stress and relax the tension you didn't know you were holding.
Optimize your shower routine: I used to shower with whatever inexpensive bar soap was on sale at the grocery store. Because I was in a rush, I used the same drying soap on my face and skipped moisturizing any of my skin. By upping my shower products game with products like the Dove beauty bar with 1/4 moisturizing cream and moving my face and body lotion into the shower, I now leave the shower with skin that is moisturized instead of stripped and feel so luxurious.
Go ahead and try that acai bowl, learn that Tik Tok dance, and talk sports for an hour with the folks in your fantasy league! The little things add up to creating the best you.