Music can create the perfect setting for self-care.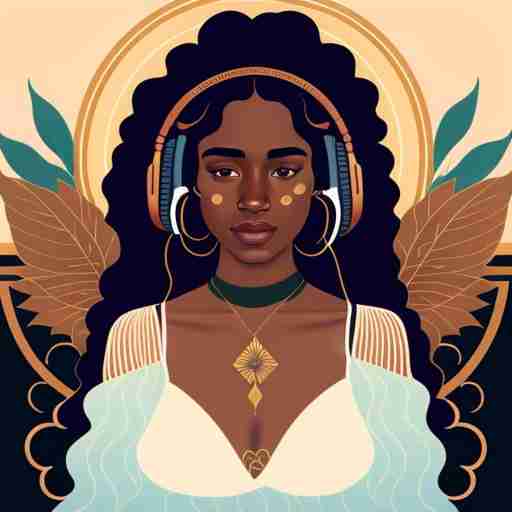 Self-Care in Music
Music is a powerful tool for helping us to relax, heal, and feel supported. It can be the perfect companion on days when we need a little extra loving care. With that in mind, we've put together a list of the best self-care songs for your own personal playlist. This article explores different ways the right music can be used for self-care and its potential therapeutic benefits.
Benefits of Music for Self-Care
The impact of music on our emotions and well-being is well-known, so it is unsurprising that self-care can be found within music. Rhythm and lyrics can provide an effective means of looking after ourselves, from providing relief from stress to helping us to connect with ourselves and the world around us. We all express ourselves and our emotions in unique ways.
Types of Music to Boost Mood
Music has been a part of human life for centuries. It has been used for centuries as a tool to unite, rally, and for healing. It can offer solace, comfort, and support to those seeking to recover from hardship and stress. Each generation finds its own way to relate to music. From the classical music of centuries past to today's ever-evolving genres. Music has the power to tell stories and inspire emotions, while at the same time providing a form of entertainment.
Some musicians or songs are so popular that they become the sound of a generation. The Beatles. The Temptations. New Kids On The Block. Whether it's a classic '80s rock song, the latest hip-hop banger, or a soothing indie tune, music can evoke strong emotions and make us feel connected to others around us.
Most people have a unique array of defining music. So what does it take to make a specific song important to you? Most often it is the memories and emotions that it triggers. Whether it was playing during a major milestone like your first dance with a boy you liked or the lyrics of a song perfectly embody that hot summer day you said goodbye to your best childhood friend, music can bring joy, peace, and a sense of understanding to the listener.
Our top 10 list of best songs about self-care
1. Best song about your awesomeness: "The Man" by Aloe Blacc
2. Best song about your uniqueness: "True Colors" by Cyndi Lauper
3. Best song about your resilience: "Stronger (What Doesn't Kill You)" by Kelly Clarkson
4. Best song about loving yourself: "Beautiful" by Christina Aguilera
5. Best song about hustle culture: "Opportunities (Let's Make Lots of Money)" by the Pet Shop Boys
6. Best song about having fun: "Fun, fun, fun" by the Beach Boys
7. Best song about saying goodbye: "End of the Road" Boyz II Men
8. Best song about perseverance: "Try Again" by Aaliyah
9. Best song about starting over: "Fight Song" by Rachel Platten
10. Best song about moving forward: "Carry On" by Fun
Here's how to add even more songs to your playlist whether through lyrics or melody to express your emotions and help you feel your best. 
Crafting the Playlist
The best playlist for self-care is one that makes you relax, focus or simply take a break from your everyday life. Creating the perfect playlist for how you feel can be a great way to take control of your mood and express yourself. Tunes tailored to your current emotion can be an incredibly cathartic experience. Whether you're feeling energized and ready to face the day or need a pick-me-up after a long, tiring week, having the right music at your fingertips can make all the difference. But finding the right tunes to match your current vibe isn't always easy.
Here are the top tips to identify and capture the right emotions through music selection, as well as how to organize and construct your playlist.
Follow these 5 simple steps to create a playlist that perfectly matches and enhances all of your emotions.
Step 1: Identify the purpose of your playlist – Is it for dancing, relaxing, working out, or just to match a particular mood? This will help you select appropriate songs accordingly.
Step 2: Match the tempo – A high-energy song might not be suitable when feeling low but can be great when working out. You can find the beats per minute (BPM) of virtually any song with a simple Google search like "How many BPM in <insert song name>?" If you are going for relaxing, low-intensity activities or even sleep, the beats per minute should be between 60 to 90 BPM. The normal resting heart rate for an adult is between 60 – 100 BPM. 60 BPM is thought to be ideal for a deep sleep mix. (source) For more moderate-intensity activities like yoga, walking, or warming up for exercise, the BPM should be 90+ to 140 BPM To get pumped up for higher-intensity cardio or powerlifting, the BPM should be 140+ to 170 BPM. (source)
Step 3: Check out existing public playlists – People across the world have created publicly available playlists that are already full of curated songs for a certain mood or genre. Spotify and Youtube are the most popular places to find public music playlists. Many DJs even stream live jam sessions if you want to stumble on more obscure songs you may not have heard before.
Step 4: Include your favorite songs – Weave in your favorite songs, this gives the playlist an even more personal feel.
Step 5: Give the playlist a catchy title – It can be based on genres, artists, or even time periods. Having a theme helps create cohesion between the songs in the playlist and makes you more likely to listen again and again.
Music is a powerful emotion-manifesting tool. It can lift us up when we're feeling down and calm us down when we need to relax. However, it can be difficult to find the right music for whatever emotion you might be feeling at any given moment. That's why having a well-crafted playlist of songs to fit your moods is so essential.
When new music comes out that speaks to you, consider adding it to your playlist to keep it a living reflection of your experiences. We all need moments of self-care. Whether that's a home spa day with a face mask, or just taking an hour for yourself to read a book and put your phone away, it's important to take time for yourself. An ultimate playlist of songs can be a perfect self-care routine all on its own.
Are you looking to create a playlist that perfectly captures your mood? Whether you are feeling upbeat, relaxed, or somewhere in between, creating a playlist This article will help you make the perfect musical mix for any feeling.