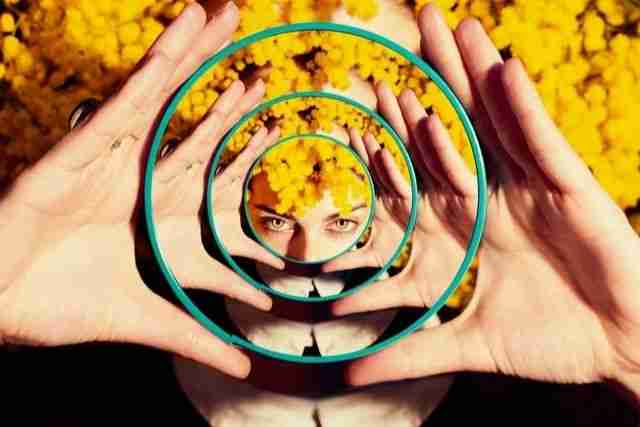 Do you hope to welcome real positivity into your life? Commit to taking the optimistic viewpoint despite the circumstance. You will be tried and your patience will be tested, but life never throws anything at you that you cannot handle.
Make substantial change happen one small step at a time. Apply the classic question, how do you eat an elephant? Answer: take things one bite at a time. If you aren't used to flipping the sunny side face-up, that's okay. With practice, you'll find good things to focus on.
Before long, positivity will become your modus operandi for living.
If you're serious about committing to a more positive way of thinking, make your transformation in slow, deliberate steps.
Step 1: Focus on the positive about yourself.
Explore your most valuable traits. Even if you're feeling like you could use a mindset makeover, don't beat yourself up about that. Instead, identify areas where you shine in life and therefore are likely to maintain an upbeat demeanor, positive outlook, and can-do attitude. It's going to be your goal to carry that sunny disposition to other, more difficult situations and scenarios.
Step 2: Emulate those who embody what you want to be.
It's okay to be a copycat if the person whom you're modeling reflects solid character and integrity in their values. We can always use more goodness in the world, so if you see someone being how you'd like to be, follow that. Once you have their moves memorized, modify your approach to something that fits your own personal style.
Step 3: Let go of the toxic dynamic.
Take note of the people around you. Realize that your negative behavior or internal dialog might be and sound very similar to those closest to you. Make decisions to remove or include as you feel necessary. This life is your movie, you decide who to cast and who to cut.
Step 4: START LOVING YOU.
This is one of the most important things on this list. Positivity stems from simply wanting the best for yourself, and believing that you deserve the best is the first step. The more you choose to love and accept yourself for who you are, the more you will embrace positive aspects about yourself that you can expand on and be grateful for.
Step 5: Keep a positivity journal.
The best way to train our thoughts toward optimism and productive action is to form them on paper so they can become a sort of bedside self-help bible to guide us in life. Some days it will be easier than others to discover the goodness in the world. But remember that the dark clouds wash the world clean again, and you can apply that mindset to the little everyday things.
Previous: Turn a negative situation into a positive one | Next: 5 Tips for a Peaceful Morning