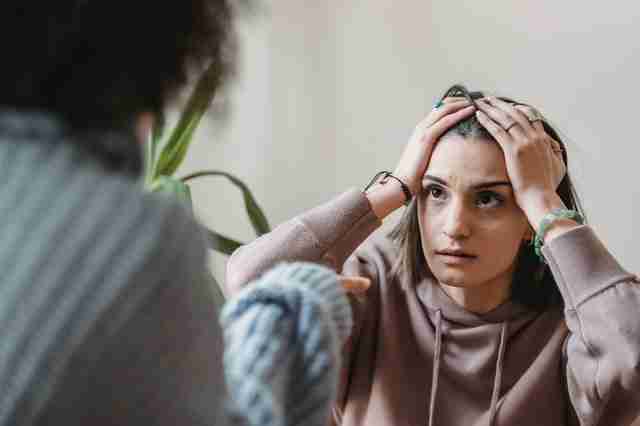 Afraid of conflict?
A lot of people feel get stressed out by conflict. In fact, many people are so terrified of conflict stress that they prefer to remain silent to avoid it. To them, it's much easier not to express their needs or wants than having to be in direct conflict with another person.
Avoidance is a short-term solution
The problem with this is that even though it might nip acute stress in the bud, never standing up for yourself to others and never saying what you mean or expressing your opinion means you're probably not going to get much of what you want in life. This is a sort of chronic underlying stress that we don't really pay much attention to, but it's there eating away at us, standing between us and living an authentic life.
Turn over a new leaf
If you're someone who avoids conflict with other people thinking that it is just too stressful, you might opt to turn over a new leaf. Find ways to better manage conflict so that you can improve your communication and negotiation skills. Work toward saying what you mean, meaning what you say and getting what you want, at least some of the time. This is one huge way to rid yourself of stress!
Again, if you're someone who loathes conflict, this may seem like something that you would just rather bury your head in the sand about. But people who work too hard at avoiding conflict actually grow passive-aggressive in their behavior. Passive-aggressive people go along with things that they don't want to do because they haven't summoned up the courage to stand up for what they really think and believe.
Being passive-agressive is not the solution
Passive-aggressive people pout, drag their feet, avoid responding, procrastinate, feel resentful, and generally let stress accumulate inside of themselves to reach a dangerous point in the not-so-distant future. This certainly isn't good for our health OR happiness. And that's where conflict management comes into play.
Being assertive is not being aggressive
Learning to be assertive is step one for conflict management. But what is assertive, and how is it different from aggressive?
Aggressive people try to force others into submission. They may do things like speaking louder, raising their voice and yelling, overpowering others with imposing body language, using nonverbals to try to intimidate others, interrupting, and such. The problem with being aggressive is that it creates enemies. People will begin to avoid, resent and dread being with you if you come off as aggressive.
Being assertive on the other hand means that you have learned to express your opinion, ask for what you want, make a suggestion, state your needs, say no if you need to, suggest a compromise, negotiate a situation, and otherwise stand up for yourself and your rights as a human being, without imposing on the rights of another.
It's not easy to shift into assertive behavior if you're not used to advocating on your own behalf. But once you start, you can slowly become the confident person you always wished you could be. In doing so, you can better navigate through times of conflict. Situations that once triggered you emotionally and felt like stressful fights can instead become a mature interaction, with both parties communicating, negotiating, compromising, and working to meet in the middle.
Next: Evening Stress Wind-down | Previous: The Art of Saying NO