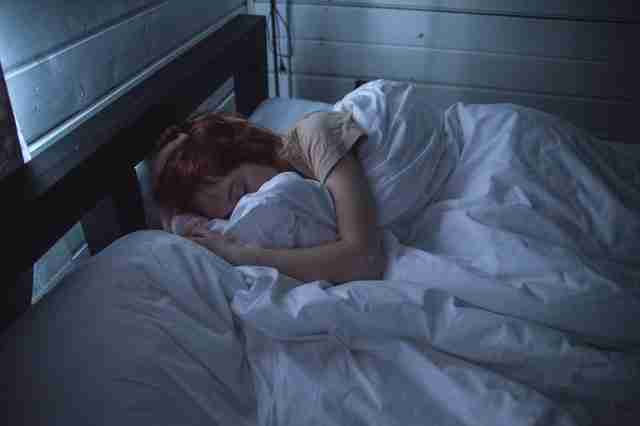 Elements of a stress wind-down strategy
Today we are discussing an evening stress wind-down strategy. If you have been chronically stressed for some time, then you may not even realize how much being stressed impacts your performance over the course of an ordinary day. Let's take new motherhood as an example. Anyone who has had a baby knows what it is like to be chronically sleep-deprived.
This type of exhaustion puts your body into cortisol over-production so you can survive. Your body runs on cortisol to stay active and awake during the day. You may feel emotionally triggered and have trouble thinking clearly. Slowed reaction time gives you what new moms affectionately nickname "mommy brain". Doing something like driving can even prove scary when in this "running on exhaust fumes" state.
Of course, new motherhood may not be at the root of your sleep deprivation. You could be struggling financially and working overtime, doing the work of two people. Maybe you work in the daytime, take a short rest and then stay up late studying for your college exams. Even a stressful relationship can cause difficulty staying asleep.
There may be any reason why stress has impacted you and you are not getting a good night's rest. As mentioned, sleep is really important for your ability to function during the day. While you sleep, your body does things like self-clean, heal and repair.
Here's a simple but effective evening ritual to help you wind down and sleep more deeply and for more hours of complete rest. You should ideally make the entire routine, or a variation of it, a part of your evening ritual. Don't let distractions get in the way. Bedtime means downtime and this is what will help you settle into a deep, restful sleep for the night. Getting a good night's sleep is a priority when it comes to lowering stress levels during the daytime waking hours.
Stretch
Do some evening stretches. If you've ever explored yoga then you may know that there are different poses that work together for a variety of effects. Some help with weight loss. Some aid digestion. Some build strength. Try looking online for a yoga asana, or series of poses to run through, that will help you relax at bedtime. Search for gentle yoga.
Yoga
Perform your yoga poses slowly and mindfully. Work on breathing for the biggest benefit. Did you know that the deeper you breathe, the more effective you will be at delivering oxygen to specific body parts that are activated during the various poses?
Inhale six long, slow belly breaths while holding each pose. Release all of the air from your lungs and then slowly inhale again, using snore breath or Ujjayi breathing.
Bathing ritual
Take a shower, or soak in a hot bath for a bit. Getting the day's grime off is one way to fully relax into bedtime and bring sleep. It feels good to be clean, freshly shaven if that's a thing for you, and to indulge in relaxing scents that calm us naturally, such as lavender and chamomile. If your muscles feel tight from exercise or work, ease any stiffness or soreness with an Epsom salt bath. Epsom salts are magnesium that enters the body through the skin for a deep-down relaxation.
How about a foot bath? If you don't have the luxury of settling into a warm bath, then do the short version and dunk your freshly washed feet into a basin or sink full of warm water. You can add scents such as lavender to your foot bath, or even pour in some Epsom salts.
Herbal tea
Try some herbal tea. Chamomile is well known for being a gentle, sleep-inducing sedative. Chamomile is the main ingredient in Celestial Seasonings Sleepy Time blend, along with peppermint which soothes the tummy. When the stomach is calm, we sleep better. Other herbal tea ingredients such as catnip and lavender are also said to improve sleep. Have fun exploring a variety of healing herbal teas, and choose one that you will enjoy and which you'll look forward to settling down with a hot cup every evening.
Aromatherapy
Try lavender aromatherapy. Many people are turning to essential oils as part of their daily self-care. Lavender is a gentle sleep aid. Place a few drops of the essential oil in a diffuser and give your bedroom a gentle misting of relaxing herbal scent. Add some to your hand lotion and smooth it into your skin before retiring for the evening.
Massage
Give or get a message. If you're married, massage can be a wonderful addition to your bedtime routine. It's a simple, wordless way to connect through touch and can often lead to other enjoyments which can also help you relax and make ready for a good night's sleep.
If you've never given a massage before, here are a few quick tips. Start with clean bodies. The fresher you feel, the more you'll be likely to ease into relaxation, be you the giver or the getter of the massage. Let your hands guide you. Massage tunes us into other people's senses. Pay quiet attention to your partner's breathing. Notice any small noises you may hear from them indicating pleasure and feel beneath your hand and fingers the sensation of them relaxing into the massage. If something seems to be working, do more of that.
If your partner requests that specific attention be given to a certain area, honor that. Be mindful of pain points, and go easy. Or if an area is especially sensitive or has been injured, avoid that spot. Also, be easygoing about massage nights. Sometimes a massage is just what we need, and other times it's not the right time. Go with your massage flow, and take your cue from your partner. Relaxation will soon follow.
No partner to accompany you on your massage journey? That's okay. A professional massage releases stress from the body in ways you never thought imaginable. Book your first-ever pro massage, and be prepared to know the true feeling of relaxation.
Journal
Write in a gratitude journal. Take time at the end of your busy day to wind down with some positive reflection. It has been proven in studies that a gratitude practice increases feelings of relaxation and well-being. Writing down a few thoughts on what you are grateful for can help you sleep better and help you feel less stressed over time.
Remember that your evening choices for settling into bedtime for a more restful sleep should be a source of pleasure, not stress. If you start to feel pressured to do the whole routine, then it's not the right routine for you. If gratitude journaling and screaming toddlers don't mix, it's okay. Bedtime stories with your kids count as a gratitude practice, too. Again, go with your flow and make self-care a priority.
Next: Stressful Friends | Previous: How to Manage Conflict Stress