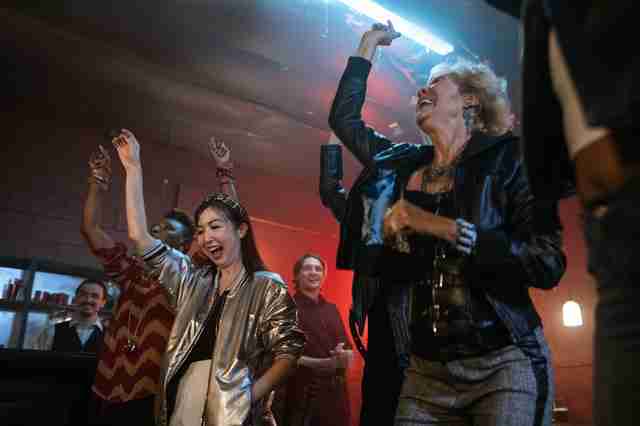 Are you searching for new activities to stay mentally sharp, enrich your life, and boost your brainpower? Maintaining mental sharpness has long been a hallmark of healthy cognitive abilities. Did you know that dancing to stay mentally sharp is one of the most fun ways to do it? Being physically active has a definite positive effect on the mind as well as the body.
Dancing is a great way to stay mentally active and keep your brain functioning at its peak. Your brain and body work together in concert, multiple areas of your brain control the individual body parts for every movement to be perfectly coordinated. It is a beautiful thing when mind and body are one and finely tuned to each other.
Why dancing to the music makes you feel good
Moving our bodies in time to the music offers a full sensory experience. Dancing while listening to and maybe even singing to a favorite song, stimulates many areas of the brain all at once. A 2008 article published in Scientific American magazine by a Columbia University neuroscientist introduced research that dance, the synchronization of music and movement, creates a "…pleasure double play." Music activates the brain's pleasure regions, while dance activates sensory and motor circuits.
Dancing delivers oxygen to the brain
Stepping, swaying, spinning, lunging, and even jumping for the more energetic songs, gives your heart an amazing aerobic workout which gets oxygen pumping to every part of your body as your lungs work hard to keep up.
The oxygen that makes your heartbeat race while dancing to your favorite tune travels to your head, which may explain why you feel giddy. A well-fed brain is a happy brain, and that invites more spontaneous thinking and learning to happen.
Dancing increases brain function improving posture
Yoga practitioners explain that our body and mind are at their finest when all of our energy centers or chakras are aligned. The workout that is dancing will help to correct rounded shoulders, realign the hips and pelvis, and stand with your upper body lifted so that more oxygen can flow to your brain which sharpens its faculties. When our posture is correct, we experience relief from aches and pains. We have mental clarity and a boost to our mood.
Dancing improves balance and coordination
There is a lot of evidence supporting the claim that music and movement together can be used as a stress-reducing, health-promoting exercise. Dr. Daniel Tarsy, an HMS professor of neurology and director of the Parkinson's Disease and Movement Disorders Center at Beth Israel Deaconess Medical Center (BIDMC) is using dance as a supportive treatment for the primary motor symptoms of Parkinson's disease including bradykinesia (slowed movement), stiffness of the limbs and trunk, tremors, and impaired balance and coordination all improve with dance.
Dancing improves memory
Every time we perform a choreographed dance or practice a dance form's particular set of steps the brain's memory center, the hippocampus is activated. With so many exciting dances to learn, from modern to traditional, specific to a region or part of popular culture. Think of salsa, polka, waltz, or the cha-cha. Also, so many genres of dance from modern, tap, ballet, or hip hop, to keep your mind active as your glide across the dance floor.
Dancing improves problem-solving skills
A well-fed brain is a happy brain, and that invites more spontaneous thinking and learning to happen. Using your body to create the patterns of choreography or execute the next movement you envision in your mind requires rapid-fire decision-making of body placement. Problem Solving is a part of dance too keeping your mind active.
Dancing improves relationships
Another positive, brain-boosting effect of learning to dance is that it can improve your relationships. Dance is a great way to build self-confidence and meet new people. Learning to dance with a partner or in a group can help you feel closer to one another as the shared experience of released feel-good chemicals during the activity creates camaraderie and closeness.
How can you get started dancing?
Learning to dance does not have to break the bank. You can take classes online or in real life at a local dance studio or gym. If you are local to Indianapolis, check out Dance Works Indy. Another option is to attend live online classes at studios like Dance Church. There are so many free dance courses like this Dance Body Ab routine on YouTube and paid dance courses online to master the steps from the comfort of your own living or dining room dance floor anytime you choose.
Dancing is a great way to stay mentally sharp as you age
The more you do a physical activity such as dancing, the better your body will become at it. The way your mind memorizes the steps and communicates to your muscle fibers and nerve endings to move in the right way at the right tempo. Dancing is a great way to reduce stress, exercise, have fun, and improve moods. According to some studies, dancing can help improve both short-term memory and reaction time. So if you're looking for a fun way to stay mentally healthy, dancing may be the perfect solution!
Next: Creative Writing For Self-Improvement | Previous: Why Learning a New Language is Good for Your Brain