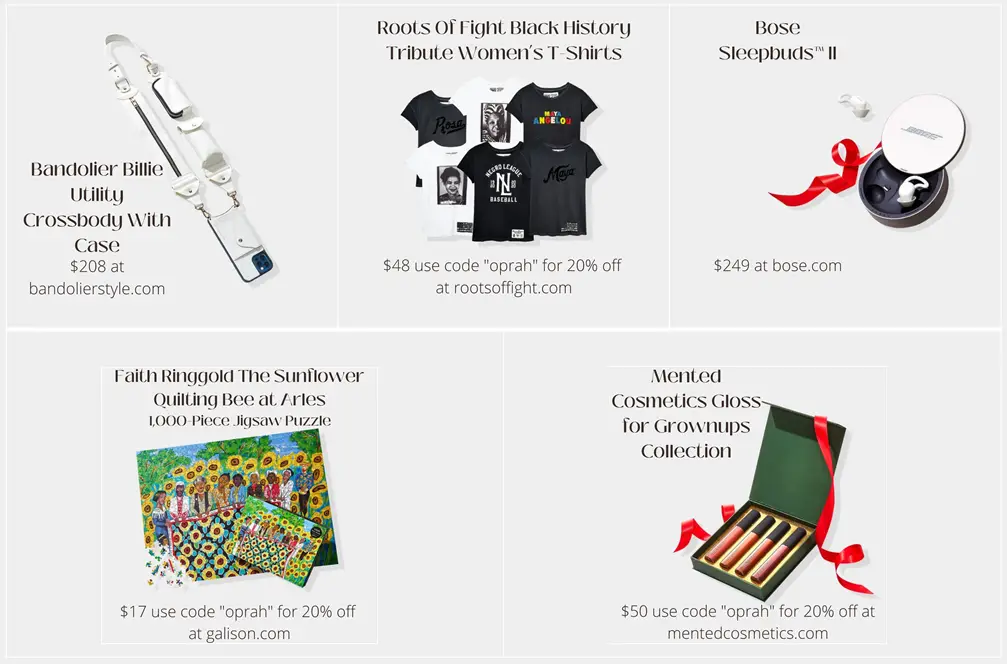 My top 10 self-care gifts of 2021 come straight from Oprah's favorite things list.  The 2021 list is the biggest ever with 110 items.  They are broken down into 10 categories and after much research, I have selected one favorite from each category so that there is something for everyone.
1. Stylish gifts – Bandolier Billie Utility Crossbody With Case ($208) at bandolierstyle.com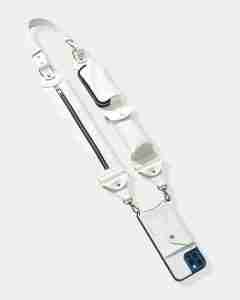 Oprah says "…you'll never have to put [your cell] down on an unsanitized surface" again. It's worth the money just for that.  But I also love this crossbody bag for its extra pockets for the other odds and ends I always have on me.
2. Cozy gifts -Branché Belle De Nuit Eye Masque and Chouchou Silk Scrunchie Gift Set ($65) at branchebeauty.com
My hair and skin have been thriving during the pandemic.  In no small part to the satin pillowcase, I now use.  Up your game with silk scrunchies and a silk eye mask to limit hair breakage and skin irritation.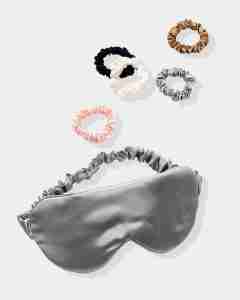 3. Home gifts – Faith Ringgold The Sunflower Quilting Bee at Arles 1,000-Piece Jigsaw Puzzle ($17) use code "oprah" for an extra 20% off at galison.com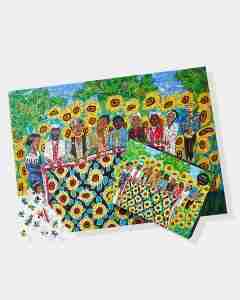 While Oprah owns the actual painting, the puzzle version is the perfect way to get your conscious mind off of stress or your troubles and instead focus on the simplicity of recognizing shapes and patterns to see the complete picture. By doing so, you are freeing your subconscious mind to work through issues and identify the bigger picture for you.
4. Kitchen gifts – Beast Blender and Hydration System ($185) at thebeast.com
Two of my favorite things in one; juicing and hydrating all in a stylish package.  Sometimes it is the small things that enable us to stick to a habit.  In this case, the gorgeous ergonomic design elevates the routing of blending and creating smoothies to a level that helps me stick with it every day.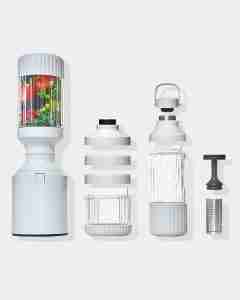 5. Beauty gifts – Mented Cosmetics Gloss for Grownups Collection ($50) use code "oprah" for an extra 20% off at mentedcosmetics.com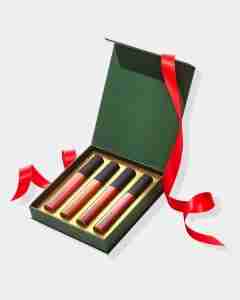 In the fall and winter months, the dry air wreaks havoc on my lips. These grown-up glosses are flattering and moisturizing without being too sticky.  It is the best of all worlds.
6. Tech gifts – Bose Sleepbuds™ II ($249) at bose.com
Whether you work the night shift and have to sleep during the day or live on a busy street, the gift of a good night's sleep is invaluable.  These Bose sleepbuds let you comfortably and easily cancel out all of life's noises for a blissful sleep.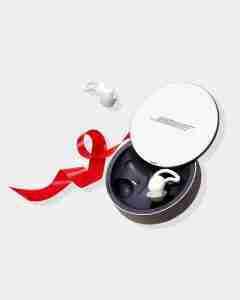 7. Food gifts – Tonya's Cookies Pecan Crisp Jar ($43) at tonyascookies.com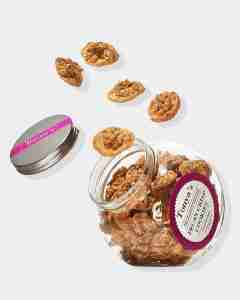 The way to anyone's heart, not just a man, is food.  Sometimes food can literally be food for the soul. These light as air cookie crisps are my pick because they are gluten-free and reportedly delicious.
8. Children's gifts – Good Night Stories for Rebel Girls ($35) use code "oprah" for an extra 20% off at rebelgirls.com
Oprah says "Reading can inspire you to do great things…" She should know.  She is featured in the book. I would love to give the gift of inspiration to the preteens in my life.  Telling the stories of women who have contributed so much to society and accomplished so much is just the right thing to do.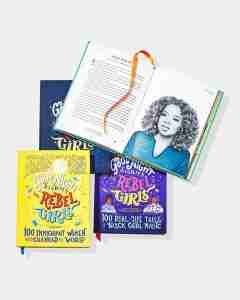 9. Pet gifts – Bindle Puppy Pack: Bottle, Sleeve, Bowl ($66) use code "oprah" for an extra 20% off at bindlebottle.com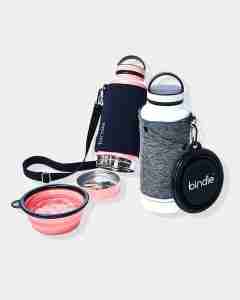 The water bottle and collapsible bowl are the perfect way to make sure that your puppy has enough to drink while out in the hot sun on a hike or running errands with you.
10. Books & Writing gifts – Compendium Life Notes Kits ($17) each at live-inspired.com 
This kit is everything a grandparent needs to leave a grandchild notes of wisdom on important life topics like love, friendship, and family.  I cherish the few items that I have from my grandparents.  I only wish something like this had been around when they were still alive. This is my favorite item on the list!