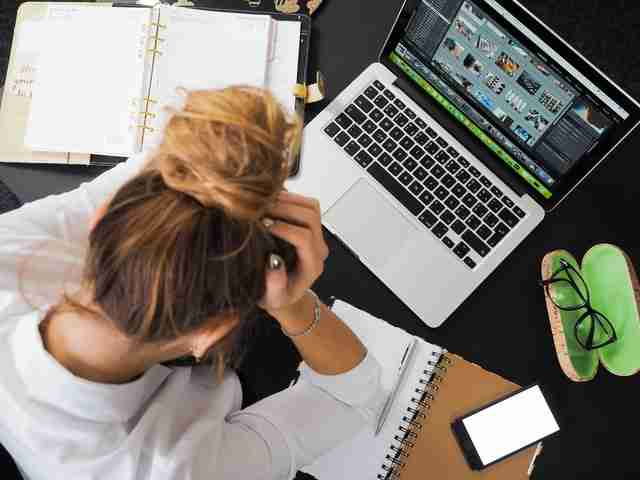 Before we get into a plan for reducing stress, let's identify if chronic stress has become a real problem in your life. Start with the physical signs of stress.
How do you know you're stressed? What signs and symptoms have begun to manifest? How has stress begun to take its toll on your body?
Initial Physical Signs of Stress
Tightening of muscles
Release of the hormone cortisol
Speeding up of heart rate
Shallow breathing
Rising blood pressure
What are the long-term effects of stress on the body?
Once these physical changes take place as a response to perceived stress in your life, the listed physical changes give way to other changes in the body. This originates within the nervous system. During stressful encounters, the body goes into "fight or flight" mode as a primitive survival response to perceived danger. When this neurological state is activated, parasympathetic nervous system function takes a back seat to sympathetic nervous system function.
What this means is that your nervous system has shifted into a reactive mode rather than a background functions mode. As a result of your body experiencing a heightened stress reaction, the following changes occur:
Digestive disturbances
Your body is no longer in the (parasympathetic) nervous system state needed to fully digest. In the face of perceived danger, your digestive system speeds through the processing of your food. You may feel a nervous urge to use the bathroom, and you may experience stomach pain and other digestive discomforts. This can mean anything from flatulence to stomach cramps, frequent bowel movements, to nausea. If you're drinking coffee to keep energy levels up during a difficult and stressful time, this and other poor choices can even result in stomach ulcers.
Reproductive hormone function issues
You've probably heard more than a few times that a woman's menstrual cycle can easily be thrown off by too much stress. We learn about this in our foray into pregnancy and baby-making. Hormonal shifts take place as a result of too much cortisol production. Cortisol is a hormone that your body produces in response to stress. Like its cousin adrenaline, cortisol speeds everything up to supercharge your reaction time – again, in response to stress. The cortisol takes a seat in your cell receptors, blocking reproductive hormones that result in a regular menstrual cycle.
Sleep patterns disturbance
Over-production of cortisol can result in a burst of energy, followed by a crash of fatigue that happens later on, once the stressful situation has passed. This is one of the most overlooked physical signs of stress.
Persistent fatigue
If you've been facing physical signs of stress in your daily life for a while, the increase in cortisol may eventually tap you out physically, resulting in daytime fatigue. You may feel very stressed in the morning, exhausted by 3:00 p.m…. and you might also experience early morning waking at 3 a.m. All of these signs indicate that your body is in a stressed state as a result of excess cortisol production. You may not think this is a serious problem, but over time, the adrenal glands can become exhausted and unable to function. That's the big crash that has you wiped every single day.
Muscle pain
This happens because our muscles become taut and tight with tension when we feel stressed. You may experience physical signs of stress as pain in the back of your neck, calves, upper and lower back, or elsewhere.
Headache
Another of the common physical signs of stress is the stress headache. You may develop a headache because your blood pressure is too high. Or you may have a headache because you have been clenching your jaw which caused your muscles to tighten. Perhaps muscle pain radiates from your back or neck to blood vessels in your head.
Mood swings
Stress can cause us to become impatient, irritable, and foul-tempered. This is the result of feeling overwhelmed and frustrated at the inability to concentrate. We experience stress when perceiving that things are out of our control. Maybe your stress levels rise when you think of your to-do list. It's getting harder to give timely attention to our pressing responsibilities.
Cravings & Weight gain
Stress and food cravings go hand in hand. Food cravings are the body's way of asking for comfort to relieve the bad feelings and calm the nervous system. Foods that are high in sugar or fat deliver a feeling of calm. For example, if you come home after a very stressful day, you might crave comfort food such as cheeseburgers, or something hearty and satisfying that's likely to fill you up and make you feel satiated.
Conclusion
Okay, so we learned about the general body reactions to stress. What about some typical physical symptoms? You probably know them well and experience at least a few if you're chronically stressed or getting there. It's a body state that you want to avoid if possible. That means learning to manage stress before it takes over and does permanent damage.
Unfortunately, that acute reaction to stress that you may be currently experiencing can become chronic and result in long-term, ill effects. As mentioned, what starts as a bout of indigestion can lead to what may feel like a permanent stomach condition as the body is thrown off-kilter on a daily basis. Having a chronically high cortisone level can result in interrupted sleep for a prolonged period which can wreak havoc on body functions. Our bodies need to be in that relaxed and restful state in order to heal, rest, and repair. Chronic insomnia can lead to reduced cognitive function. When our body is stuck in fight or flight mode, we are unable to fully connect with our higher mental powers. So yes, being chronically stressed can actually impair our ability to think and reason to full capacity.
Chronically rapid heartbeat, shallow breathing, and higher blood pressure all have their ill effects. Over time, avoiding deep breaths causes lungs to lose their elasticity. A constantly pounding heart grows tired and can lead to heart disease. Chronic high blood pressure results in hardening of the arteries as well as causes poor circulation. Over time, exposure to stress and the inability to manage it can result in chronic disease and ultimately a shortened life.
So when they say stress can kill you, unfortunately, it is the truth.
Next: Emotional Signs of Stress | Previous: Smartphone Stress