"Life is about recalibrating. About continually asking yourself: What do I have to do to get where I need to be? How do I create the life I want?"

– Oprah winfrey
Choosing your path
Reflection on your personality traits, envisioning your ideal life and life goals is a great place to start. Looking back at where I started, I never would have made it to this moment without periodic assessment of my interests and adjusting my direction.
My Journey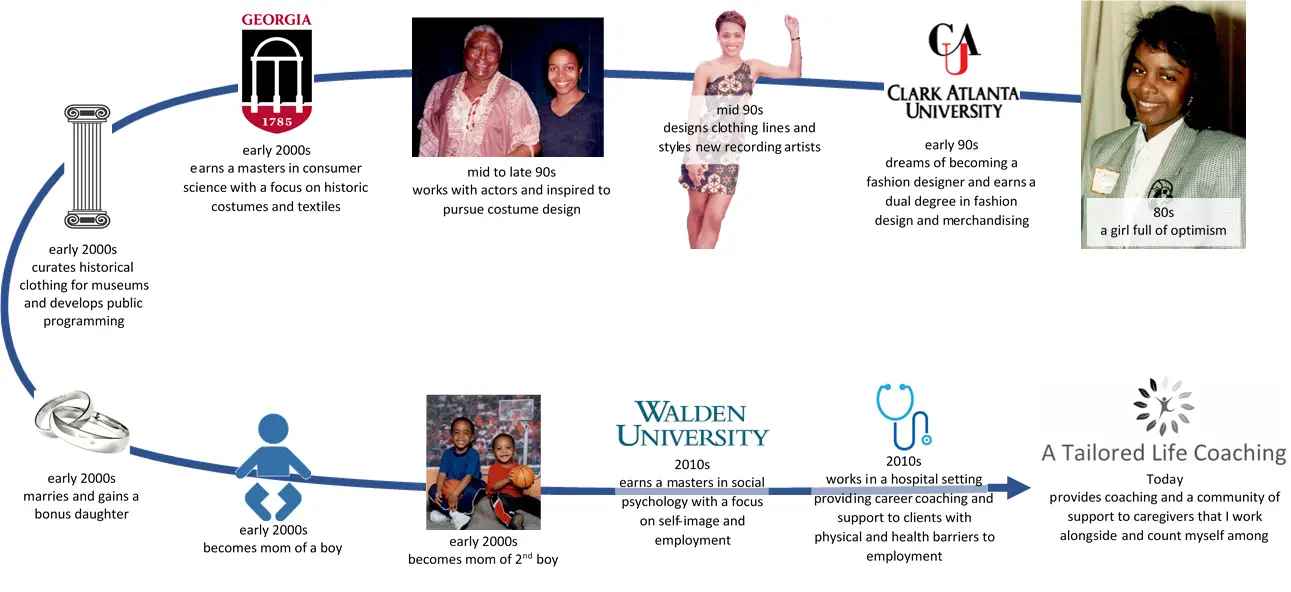 1st Act
My journey began with my first career after I earned a bachelor's degree in fashion design and merchandising from Clark Atlanta University. After working in the field, designing for a fashion house, creating my own line, and styling recording artists, I found the theater. I loved working with people and helping them to inhabit a character and craft the vision of the persona they wanted to project. Working with actors and developing period-accurate costumes sparked an interest in historical textiles. I returned to school at the University of Georgia and earned a graduate degree in consumer science with a focus on historic costume and textiles.
2nd Act
I found love after a chance trip to my hometown and moved back to Indianapolis after graduation. I began my second career within museums curating exhibits and developing programming for the public. In this phase of my life, I learned about the benefits of nurturing community beyond the one-on-one, artist and actor focus I had in the past. Learning to create programs and systems would ignite the fire for my next chapter.
3rd Act
We expanded our family with two boys in addition to my lovely stepdaughter. Life with kids and becoming a caregiver redefined me and I found myself returning to school for a master's in psychology with a focus on self-image and employment. I began my third career as a career coach in a hospital setting working with clients that had physical or health barriers to gaining and sustaining employment. I was able to blend my past experience with developing self-image with my advanced studies in psychology to be of service to an underserved community.
The Next Chapter
While fulfilling, I observed and experienced first hand the mental, emotional, and physical toll that professional caregivers, parents, and guardians face. I ached to be of service to the caregivers around me. But with all my clients, my family, and aging parents, I had no time. Then the universe and hospital budget cuts conspired pushed me to embrace a shift from focusing on caregiving services to focusing on caregivers. Thus A Tailored Life Coaching was born.
We all have a journey. No two are the same. I hope you come along on this tailored self-care (t.s.c) journey with me, join the community, and take advantage of the coaching services.
All my best,
Michelle