Boundaries are the imaginary lines that seperate our mental, physical, and emotional space.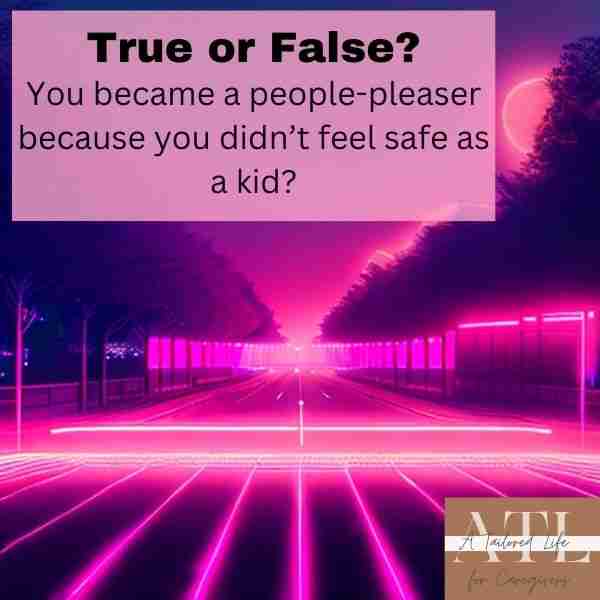 Boundaries are a challenge for people-pleasing personality types. In the symphony of human interactions, the dance between assertive personalities and those who naturally lean towards avoiding conflict and people-pleasing can lead to crossed boundaries.
If you find yourself in this situation this article is your guide to setting and maintaining personal boundaries even when dealing with forceful individuals.
We'll explore how you can assert your limits without compromising your nature as a peacekeeper.
What are boundaries?
They're the imaginary lines that rationally separate us from other people in terms of our mental space, physical space, and emotional space.
How Strong Personalities Affect People-Pleasers
Before we dive into the strategies, let's understand the playing field. A forceful personality is direct, confident, and often unapologetically outspoken. On the flip side, we people pleasers tend to avoid confrontation and aim to keep everyone content.
Imagine the scenario: Sarah, a people pleaser, interacts with Alex, known for his forceful nature. Sarah's gentle demeanor is at a disadvantage as Alex unknowingly oversteps her boundaries. The key here is not to change who you are, but to find a harmonious balance.
Because people pleasers are often codependent too, they have trouble figuring out where one person ends and they begin. When matched up with a more forceful personality this leads to shaky boundaries.
These are polarizing personality types who feed into each other's inability to recognize and respect boundaries.
Childhood Upbringing Can Play a Role
If the self-centered person failed to establish appropriate boundaries at a young age, he or she was never taught about boundaries. In fact, boundary violations were likely the norm with family.
It's an odd match-up of uncomfortable and dysfunctional behavior. But it works for these two because the people-pleasing codependent feels comfortable and natural allowing others to cross his or her boundaries. The domineering self-centered personality believes it is his or her right to violate the boundaries of others. And so a dysfunctional match is born.
The type of boundary violation that seems unusual to most people feels familiar and comfortable to the people-pleasing personality type.
Three signs that you are a people-pleaser
If you are a people pleaser, you may be used to having others interrupt, yell at you, discount your opinions, and dismiss your emotions.
If you are a people pleaser, you may be used to having other people come into your personal space inappropriately, and ignore your need for alone time and privacy.
If you are a people pleaser, you may be used to one-sided conversations, being asked to do more than your fair share, having to bear the burden of other people's inappropriate emotional reactions, and having others disclose more than is socially appropriate considering your relationship to that person.
Harnessing the Power of Your Nature
Your inclination towards avoiding conflict is a strength that can be channeled to set boundaries effectively. Let me share a personal story that embodies this. I've always been averse to confrontation, often at the expense of my own boundaries. However, this trait led me to explore alternative methods of communicating limits.
Instead of directly confronting someone, I found that gently redirecting conversations can work wonders. For instance, when a friend repeatedly intruded into my personal space, I'd say something like, "I appreciate your enthusiasm, but I'm feeling a bit overwhelmed right now. Can we catch up later?" This approach maintains harmony while asserting boundaries.
Crafting Compassionate Communication
Asserting boundaries doesn't mean you have to become aggressive. In fact, compassionate communication can be your secret weapon. A co-worker of mine that I'll call Lily, is a classic people-pleaser. She found herself in a situation where her enthusiastic colleague, let's call him Mike, kept assigning her tasks that extended beyond her capacity.
Lily decided to communicate her boundaries without confrontation. She approached Mike, saying, "I'm excited about collaborating, but I want to ensure the quality of our work. Could we discuss a more manageable workload?" Mike appreciated her candor, and this exchange laid the foundation for a more balanced collaboration.
The Art of Saying No
One of the most liberating skills you can master is the art of saying no. It's not about rejecting others; it's about prioritizing your well-being. A personal experience comes to mind when I had to say no to a last-minute favor request. Instead of a blunt refusal, I offered an alternative solution that showed my willingness to help within my limits.
Remember, saying no doesn't have to be negative. You can say, "I'd love to help, but I have prior commitments. How about we find another solution?" This approach preserves your nature as a people pleaser while drawing a clear boundary.
Taking Baby Steps in Boundary Setting
Just as Rome wasn't built in a day, setting boundaries takes practice. A friend I'll call Mark, always prioritized others' happiness, realized he needed to protect his time. He started by setting small boundaries with acquaintances and colleagues. For instance, he politely declined attending events that didn't align with his interests.
As he practiced, Mark grew more comfortable. When a close friend habitually invaded his personal time, he addressed it with gentle honesty. Over time, he learned that setting boundaries was an act of self-care that didn't jeopardize his kind nature.
Seeking Support and Allies
In your journey, don't hesitate to lean on friends, family, or mentors for support. When I was just starting in my career, I struggled with a dominating co-worker who had a habit of steamrolling over my ideas. I confided in a mentor, who suggested role-playing scenarios to practice assertive communication.
With my mentor's guidance, I learned to navigate conversations with grace and confidence. Over time, my co-worker began to respect my contributions, leading to a more balanced work dynamic.
Getting Started
In the grand mosaic of human interactions, setting boundaries is an art that blends your gentle nature with assertive communication. Embrace your conflict-avoidance trait, master compassionate communication, and learn the art of saying no without guilt. Remember, you can be a people pleaser while valuing your well-being.
We've explored how you can empower yourself to prevent forceful personalities from crossing your boundaries. This journey is about embracing your nature, nurturing relationships, and cultivating a balanced harmony that respects both your own needs and those of others.
Next: The Ultimate Guide to Setting Boundaries as a People-Pleaser | Previous: In Good Company: Why People-Pleasers Thrive with Gentle and Accommodating Friends