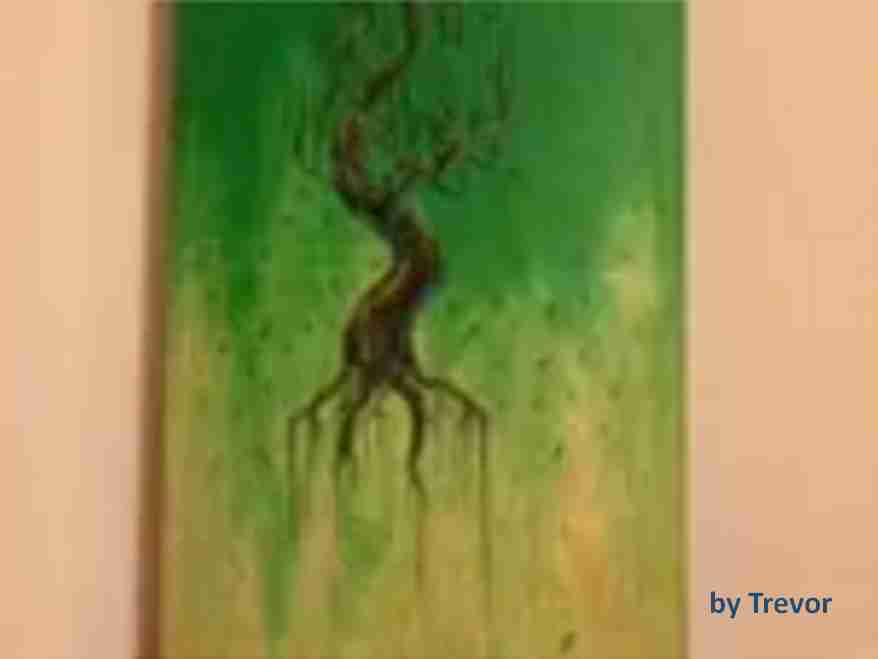 I am thankful for my family, my friends, and my health. I know these are common things to be thankful for each year; however, the common denominator in these three things is me. I have the talent to re-purpose. 
Kick- push-kick -push-coast……into your talents.
As a kid, I had a propensity for rearranging, organizing and displaying my toys, my scented sticker collection, and my Bonnie Bell scented chapstick collection.
This was my sweet spot. As an adult, I applied this talent for organizationto work as a museum curator organizing decades worth of artifacts, textiles, and memorabilia. I also repurpose my talent at home, organizing our family schedule. The seed that sparked this post is the repurposed skateboards that I see daily.
The painting featured iin this post is A tree with roots by Trevor. Fun fact, Trevor is a tattoo artist, at Metamorphosis in Indianapolis. The previous owner of this skateboard probably like Lupe Fiasco kick- push-kick -push-coast(ed) on these vintage boards.
A skateboard sans wheels once serving a carefree skateboarder now serve as art.
We all have talents that we use with our family and friends. Lupe_Fiasco is a storyteller and artist; a talent he has surely used in other contexts. I like to think that we stay healthy, mentally, and physically, by using these talents regularly to say I love you and I care.  Imagine your talents are a flower 🌹 . A rose can bloom and each petal bends and curls in its own unique way that creates a masterpiece. If the petals are your talents, when you turn your flower, you can see your talents in a new way. We all can repurpose our talents and I am truly thankful for that! Kick- push-kick -push-coast……into your talents.