Controlling people use gifts to imply intimacy before you even reach that level.
The Control Series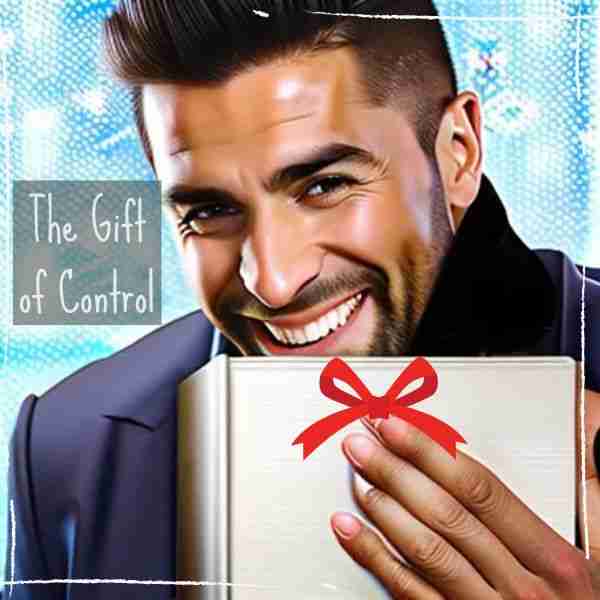 How to Handle Gifts in Relationships?
The topic of gifts can be confusing, especially in relationships. Of course, we want our partner to think of us. It's nice from time to time to come home to a special surprise, a helpful favor, or a gift. Likewise, we want to give a big or small, unexpected gift in a relationship too.
Controlling People Give Big Gifts Too Early
Where it gets weird with controlling people is that their gifts jump the gun. They give a level of gift that implies intimacy before you have reached that level of closeness in your relationship with them.
Suppose you're in the early phase of dating. After 3 dates, you receive an unexpected, oversized, and expensive bouquet of flowers from said person. The flowers arrive at your work.
While anyone would seem delighted to receive an unexpected gift, especially flowers, the weirdness comes if you don't feel that you've reached the level of intimacy with this person that warrants a gift of this magnitude. A giant bouquet at work… seems like something that a fiancee, long-term partner, or husband might send to his partner, right?
3 Ways An Extravagant Gift Rushes Intimacy
When an extravagant gift comes from someone new, it feels like a power move and brings a level of discomfort. This is because the person who is giving the gift has made several assumptions.
That you are feeling close enough to them to want to be the recipient of a lavish gift.
That this is an item that you would even want in the first place.
That you have reached the level of trust in your relationship where you would want the people that you work with to know about the two of you.
The gift then becomes an act of trying to claim you or rush intimacy when you have not reached that level of comfort.
Gifts That Come With Strings Attached
Controlling people are notorious for giving a gift that comes with a surprise price tag. Again this may start off innocently enough.
Maybe the person surprises you with an unexpected dinner that they cooked for you. Or, maybe they spend some money on something that they know you like. If they're a more practical person, perhaps they offer you a gift of personal assistance– like helping you move to a new apartment or search for a new car.
The hidden price tag is when they have an expectation of reciprocation on demand. When they pressure you into an action as a way to pay back their "kindness", that pressuring is an act of trying to control you. Maybe the person who gave the gift is trying to rush you into a commitment before you feel ready and comfortable. When you explain your hesitation and wish to move slower, the person then becomes angry and throws their gift back at you using it as a weapon to make you feel guilty.
Perhaps the controlling person who cooked you dinner has now cajoled you into an obligation that you have no desire to take part in. Their weapon of control – obligation, and guilt. "I did for you, now you do for me." This is a classic controlling behavior that involves love bombing with gifts and creating a dramatic scene afterward. The controlling person hopes to leverage the gift gesture in order to take their place as the dominating force in the partnership.
3 Steps To Decline a Gift
Turning down a gift can be a delicate situation, especially if you're trying to navigate the early stages of the relationship. You don't know if the person is controlling or just overzealous because they truly like you. You can give them the benefit of the doubt while maintaining your boundaries by turning down the gift without shutting down the possibility of growing the relationship.
Step 1: Express Appreciation and Gratitude
Begin by expressing sincere gratitude for the gesture. Let them know that you truly appreciate their thoughtfulness and the effort they put into choosing a gift for you. This sets a positive tone and shows that you value their intentions.
"This is a lovely gift. I'm truly touched by your thoughtfulness and the time you took to choose something special for me."
Step 2: Set Your Boundaries
Explain that you're still getting to know each other and that their gift is a bigger gesture than you are ready to accept.
"I'm really excited about getting to know each other better. I can't accept your generous gift. But I'd love to keep seeing where we can take this as we continue spending time together."
Step 3: Offer An Alternative
Suggest an experience together that reflects the level of intimacy you are comfortable with. This approach not only allows you to engage in something enjoyable together but also shows that you value experiences and shared moments.
"If you're up for it, maybe we could go [insert activity] and make some wonderful memories."
Remember, the key is to communicate openly, honestly, and kindly. The goal is to let your new partner know that you're receptive to their gestures while also gently setting boundaries and establishing your own pace for the relationship. This approach maintains a positive atmosphere and leaves room for growth in the relationship.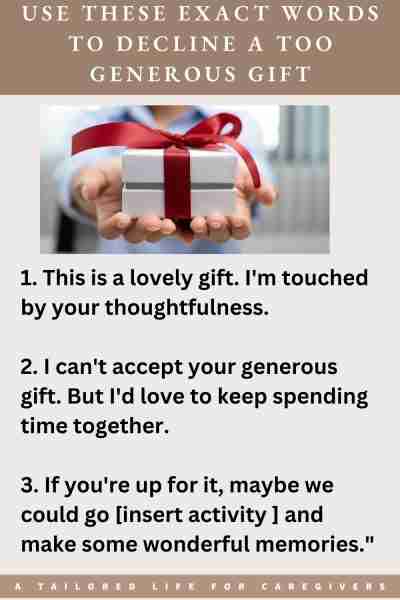 Next: Take Control Back From Tantrum Throwers | Last: How Controlling Relationships Cross Boundaries