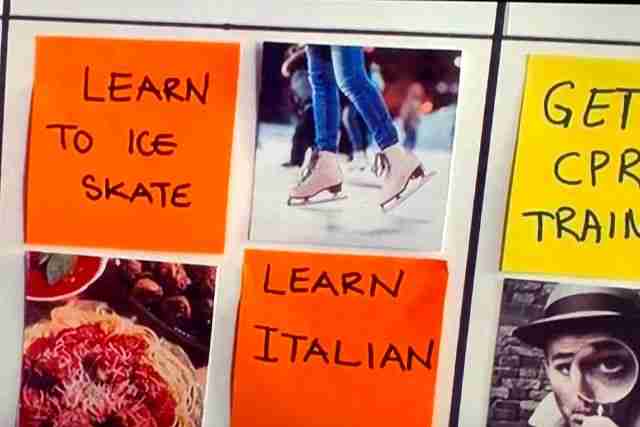 Setting life goals is an important step to creating a fulfilling life. If you set your life goals based on the expectations of others or the airbrushed pics of an influencer's Instagram, you are working toward a life you won't be satisfied with. Get our Self-Care Blueprint for Caregivers for an even deeper dive.
How to define the life you want
The best way to create goals is by looking at your values. It's easier to set goals once you have the big picture in mind. So paint your ideal life in your head with the bold strokes of things you truly love. If you find it difficult to envision your ideal life, start with a broad brush by asking yourself these questions:
5 Questions to Find Your Life Compass
What's important to you in life?
What type of news story or behaviors make you angry? Inspires you?
What would you do if you could have any career without worrying about money or other limitations?
What are you most proud of in your life?
What gets you excited or motivated to make changes in the world or with yourself?
Career Goals
Use your answers to the questions to guide your goals.
Goals should be S.M.A.R.T.
Specific
Measurable
Achievable
Relevant
Time-bound
To create lasting change in your life, it is important to develop multiple goals that are interconnected and support each other. In order to set career goals, ask yourself:
Questions to Set Career Goals
What would I like to see happening in my career 6 months from now?
How about a year from now, 5 years from now?
If you work for yourself, what moves can I make to create more income streams or get different money-making options going for my business?
Then list a set of actions that you can take to help yourself get there. Perhaps you'll have to go back to school or take a course to increase your knowledge in a specific area or learn a new skill.
List a set of actions for you to take.
Do you need to step up your production at work and prove to your boss that you may be worthy of a promotion? If you're unhappy at your company, what steps must you make to update your resume and start putting out some cover letters to plan your exit strategy? Once you do this brainstorm, you will be able to set up a plan of action and create stepping-stone goals for your career.
Family Life Goals
Family is important. We should stop putting quality time with our family always on the back burner. We should also get out of the habit of procrastinating family activities because we have other, seemingly more pressing responsibilities that we have committed ourselves to. Overbooking is often a problem. Ask yourself:
Questions to Set Family Life Goals
What commitments can I scale back that are not as important as being with my family?
What is your plan to get yourself out of that obligation, and what will you replace the lost time with?
These are gradual steps that you can set up for yourself and make a list of goals one by one. Maybe one of your goals could be to back out of a prior commitment like a social group that you belong to which has become far too involved. Maybe you use that newfound time for family hikes or a Sunday cooking day with a whole family involved.
Come up with a plan to more meaningful and mindful family experiences together.
Relationship Goals
You might not think that you'd be able to self-coach your way through relationship troubles or challenges. But why not? Change can be a very welcome thing, and you surely don't have to live in a relationship that makes you unhappy. Instead, find different ways of reacting and dealing with people who give you problems.
You are not obligated to repeat the same negative patterns with those you are close to.
Start by asking yourself:
Questions to Set Relationship Goals
How do I show commitment to this relationship?
How do I show love to my partner?
How do I let my partner know that I respect and admire them?
You can also learn to control your personal reactions and temper moods. These types of self-coaching exercises help elevate your experience of relating to other people. To start, write down what you would like to achieve in your relationships.
Maybe you want to fight less with your husband or wife. Maybe you want to stop losing sleep over things your mother says to you on the phone. Next, find ways to cope. Set a plan for a simple set of goals you would like to tackle in your personal life. Follow through and get going on your self-coaching strategy to enjoy more fulfilling relationships.
Financial Goals
Finances are something that we all too routinely put on the back burner of life.
But is the most important thing when it comes to survival, security, and passing on the family legacy. You can self-coach your way to better spending habits, and you can develop a long-term plan to create wealth.
Many people do not know where to begin with savings and investments. For this reason, it's important to talk to a financial planner. Do not think of this as being coached, instead think of it as sourcing a strategy that will allow you to self-coach your way to better income-producing and wealth-creating habits.
Questions to Set Financial Goals
What does being financially secure mean to me?
How would I use wealth for my or my family's well-being?
From there, you can set your own financial goals which can be very concrete as is the nature of money. Maybe one goal is about committing to putting away $100 a month. Or maybe it's your commitment to paying debt on time or consolidating debt if needed. Make a plan and take action.
Health and Wellness Goals
Your health is so important. As we age, we become more dependent on others. But this does not have to be the case. If you don't want your old age to be a time of limitation and struggle putting your care in the hands of others, then take action and begin to establish good health practices now.
Do it now, while you still have time to establish change and embrace a more healthy lifestyle.
Questions to Set Health and Wellness Goals
How am I doing in the body I live in and operate daily?
Do I feel physically limited to do things that I want to do or keep up with others?
If I were in the doctor's office right now, could I have a productive conversation about my overall health?
What feels off, not normal, is changing or concerning about my weight, sleep, mood, hormones, and skin?
Set self-coaching goals for your health. Maybe you want to lose 20 pounds in the next year and keep it off. What baby steps can you take to get there? What must you research and learn? What habits must you embrace?
It could be something as simple as taking a walk for half an hour every day. Whatever it is, even if it doesn't seem that meaningful or worthy of writing down, do it anyway. This is the type of simple self-coaching that leads to permanent improvements in how you live.
Define Your Success
Remember, you don't have to be so drastic in your self-coaching efforts to make sweeping changes or change everything all at once. That can be overwhelming, and you are likely to backpedal if take on too many self-development projects.
You already have many aspects of your life that you are dedicated to daily. You didn't take on all your current commitments in a day. And you certainly can't undo them in a day to shift your priorities to self-development.
Define what success means to you. Success cannot simply mean making more money or having more possessions. Success must come from within. It has to be something you're passionate about and feel fulfilled by.
Setting a goal of making $100,000 in the next year is not going to make you happy. It may give you a sense of relief. Because the real underlying goal is to feel financially secure.
Working overtime for several months to pay off a credit card will not make you feel fulfilled.
Determine what is important to you and where your priorities lie. After you write out areas where you would like to begin self-coaching yourself to a better place, you can pick just one. That's where your initial set of self-coaching goals will begin.
Let's say it's health. You want to set some habits for eating better and exercising on a more consistent, routine basis. That's a great place to start. Achieving your first goal will give you the motivation you need to tackle the next one.
Previous: No Fail Self-Coaching Goals | Next: How To Build A Self-Coaching Plan of Action