People-pleasers need self-care more than most.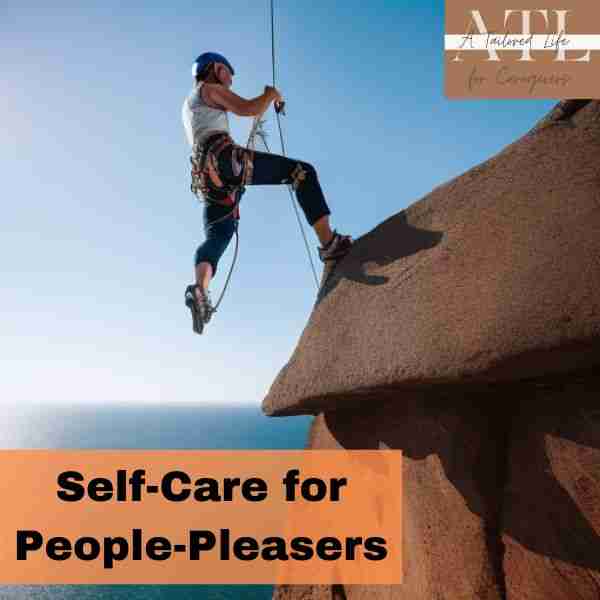 People-pleasers need self-care more than most. We have been set in our selfless devotion to others since early on. We've dealt with difficult, high-intensity situations and demanding personalities that we've had to defuse, improve or resolve all while looking cool, calm, and collected.
Are You In A Constant State of High Alert?
Even when we look cool on the outside, the nerves of we, people-pleasing individuals are often rattled. I am so used to being on the lookout for what others need that I'm sensitive, to begin with.
Over time, being ever vigilant in protecting the emotional states of others made being on high alert a way of life. I actually used to feel guilty if I took my eye off anything for even a minute and a problem popped up. Even if it wasn't my responsibility or there were others who should have been looking out.
There is a very real nervous system response that was driving my actions. With the sudden onset of stress, my muscles tense up all at once. Chronic stress causes the muscles in the body to be in a constant state of tension without release. Constantly taut muscles over long periods of time can lead to many stress-related disorders. For me, it's tension headaches and migraines that I feel down into my neck and shoulders.
Symptoms of Stress
According to the American Psychological Association, other common symptoms of prolonged stress are:
pain in the lower back and arms
rapid breathing
hyperventilation
elevated blood pressure
heart disease
impaired communication between the immune system and the HPA axis
diabetes
obesity
depression
immune disorders
esophagus spasms
pain
bloating
nausea
vomiting
muscle spasms in the bowel
decline in testosterone
reduced libido
reduced sperm motility
reduced conception rates
worsening premenstrual syndrome
Negative Consequences of Stress
The negative consequences don't stop with our health. A paper in the journal of Health Psychology research, The Impact of Healthcare Workers Job Environment on Their Mental-emotional Health. Coping Strategies: The Case of a Local General Hospital, found that "Being exposed to stress for too long, may lower a person's efficiency…"
Dealing with people and situations that take us beyond the boundaries of emotional normalcy means that our nerves will be affected. Our bodies know this is no good. So whenever you're triggered, your brain does everything in its power to compensate, so you won't have to deal with the upset yet again. Often times that is by shutting down and being less effective.
Two major types of coping strategies are problem-centered and emotion-centered. Problem-centered strategies include things like seeking social support. While emotion-centered ones include wishful thinking and prayer.
Why You Need Self-Care
People pleasers need self-care more than most – for this, and for other reasons.
Our nervous systems are under constant assault bearing the stress of other people's emotional reactions. We rush to their aid to avoid having to experience unpleasant feelings.
But eventually by putting myself very last on the priority list – if on the list at all, I never seemed to catch a moment to fit in some needed self-care.
So, you just keep on trying to fill the cup of other needs – but, as the saying goes, you've failed to refill your own cup. When my self-care goes neglected, and my health suffers, and so does my performance and ability to cater to others.
It's best to remember to fill up that cup. In doing so, you'll be taking care of number one – you – and you'll also be giving your soul some needed replenishment, which means you'll be all full up and ready to tend to the needs of other people once again.
25+ Self-Care Tips for People Pleasers
Here are some simple ideas for people pleasers to take care of pleasing themselves:
Find time for exercise. Be active. Stretch, run, dance, and use your muscles.
Find time to prepare nutritious and healthy meals.
Find time to enjoy good food without rushing.
Find time for easy, relaxing conversations.
Find time for simple pleasures. Cook, catch a fish, and play with your kids.
Find time for pets. Run with your dog. Sing with your parakeet. Sit with your pet guinea pig.
Find time for music. Appreciate a joyful melody.
Find time to tend to your emotional needs. Let yourself feel. Explore that.
Find time to feel your own flow. Go with it. Let a mood or urge carry you where it may.
Find time to rest in nature. Luxuriate in the beauty of the great outdoors.
Find time to pamper yourself. Enjoy a massage, some skincare, a fresh haircut, or a new outfit.
Find time to nurture loving, pressure-free relationships.
Find time to commune with God or live a spiritual life.
Find time for rituals. Sit with a cup of tea. Write in your journal. Be grateful.
Find time for hobbies. Do crafts, paint, write, play games, enjoy a sport, or do puzzles.
Find time to play – enjoy games, creativity, laughter, and spontaneity.
Find time for quiet. Enjoy the blissful silence. Just be.
Find time for solitude. Rejoice in the peace of your own company. Be happy with just you.
Find time for self-acceptance. Love yourself first and foremost. Know your worth.
Find time to breathe. Yes – literally give yourself permission to draw the breath of life.
Find time for love. Be romantic, affectionate, and intimate with your partner.
Find time for self-introspection. Get to know you.
Find time for sleep. You must sleep to be at your personal best.
Find time for healing. Ruminate. Perseverance. Give yourself permission to get over things.
Find time to grow things. Plant a garden. Tend it with love and care.
Find time for self-growth. Embrace the changes within.
Next: Practices To Lessen Your People-Pleasing Tendency | Previous: The Ultimate Guide to Setting Boundaries as a People-Pleaser